For a wealth of information concerning Craig County,
please click on a link below.
Businesses with web pages are linked on this page. Phone numbers are listed for these businesses and for others of potential interest.  For an events listing, go to http://craigcountyva.gov/living-in-craig/events/
Appalachian Trail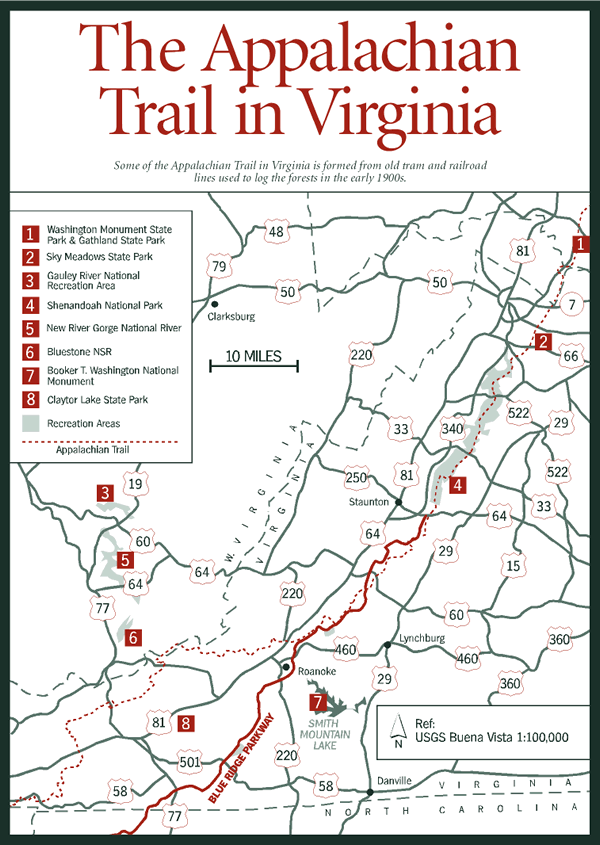 Big Pine Trout Farm, 540-864-5555
Blue Ridge Soaring Society  540-864-5800
C & M Grocery  (540) 864-6062
Camp Easter Seals, 540-864-5750
Craig County Administrator, 540-864-5010
Craig County Artisan Center & Farmers Market  (540) 864-6008
Craig County Childcare Center  540-864-7700
Craig County Fairgrounds Association, 540-864-5516
Craig County Health Care Center (540) 864-6390

Craig County Rescue Squad (540) 864-5115
Craig County Public Library, 540-864-8978 (Barn Quilt Trail)
Craig County Public Schools, 540-864-5191
Craig Creek Gardens
Craig Springs Camp and Conference Center, 540-864-5768
Craig Valley Chapter DAR, 540-864-6464
Creekside Creations
Custer Catfish Ponds & Tournaments, 540-384-6133
Depot Lodge, 800-970-3376
The Emporium (540) 309-6650
Family Dollar  (540) 864-6263
Fitness by Holly  (540) 765-7081
Food Country Grocery, 540-864-6221
George Washington-Jefferson National Forest
Hair Design (540) 864-8788
Helms Pro Hardware and Auto Care, 540-864-5025
Hollow Hill Farm 540-897-5196

Huffman House Bed and Breakfast, 540-544-6942
IGA Express (540) 864-7301 (convenience store)
Joe's Trees, 540-544-7303
Katie's Pet Grooming (540) 864-8752
Lisa's Little Hair Shop (540) 864-5577
Market Street Pharmacy, 540-864-8800
Meadow Creek Wood Shop (540) 864-5666
New Castle Christian Church, 540-864-5212
New Castle Garden Club, Karen Walker, 540-864-5025
NRV Bubbleball  540-544-7595
Old Brick Hotel & Genealogy Library, 540-864-7023
Paint Bank General Store, 540-897-5000
Paint Bank Fish Hatchery, 540-897-5401
Pinetop Restaurant 540-864-5864
Potts Creek Outfitters, 540-897-5555
Roanoke Valley Convention and Visitor's Bureau
Shay-Pit Too (540) 864-7188
Sinking Creek Store (540) 864-6295
Subway Reataurant  540-864-8300
The Swinging Bridge Restaurant 540-864-5099
Tingler's Mill, (800) 970-DEPOT
Virginia's Western Highlands
Unique Hair Fashions (540) 864-5100
Wilderness Adventure at Eagle Landing, 540-864-6792
Woodall Blueberry Farm, 540-544-7587
RESTAURANTS
Food Country Delicatessen, Market Street, 540-864-6221
Hours: 11 AM to 8 PM, Mon – Sat; 12 Noon to 6 PM, Sun
Fried chicken, hot dogs, salads, take-out only
One Block from Main Street across from Subway
Subway, 293 Market Street (Rt. 615), 540-864-8300
Hours: 6 AM to 10 PM, Mon – Sat; 10 AM to 9 PM on Sun
Breakfast, pizza, wraps, sub sandwiches
One Block from Main Street across from the IGA
The Swinging Bridge, Rt. 311 in Paint Bank, 540-897-5099
Hours: 7 AM to 3:30 PM, Mon – Wed; 8AM to 9PM Thu – Sun
Homestyle cooking, including buffalo and Highlander beef
16 miles from Main Street I-81 to Exit 141 to Rt. 311 North toward New Castle.
Follow Rt. 311 to Paint Bank.
The Swinging Bridge Restaurant is located on the left
From The Sublett Place take 42E to the town of New Castle and follow 311 to Paint Bank
The Palisades Restaurant
168 Village St.
Eggleston, Virginia 24086
Traveling North towards Blacksburg, Roanoke on I-77 from North Carolina, South Carolina, Georgia and points South
Travel north on 1-77 into Virginia to I-81, exiting at I-81 North/Roanoke. Continue north to exit 98/Dublin, Highway 100 North. Turn left onto Hwy 100 North towards Pearisburg. Just past Staffordsville, Turn Right onto Eggleston Rd. Follow approximately 7 miles. Turn left onto Village St. (Just before crossing New River). The Palisades Restaurant is the 1st brick building on your right.
Traveling South on I-81 towards Roanoke and Blacksburg from N. VA, MD, DC, PA and points North
Travel South on I-81 to Exit 118B, Christiansburg/Blacksburg. Follow signs for 460 West towards Blacksburg, continuing for 25 miles as you bypass Blacksburg and enter Giles County.  FROM THE SUBLETT PLACE:Turn right on 460 W at Newport and continue until you  Pass Hilltop Grocery & Atkins Farm Equipment. Turn left onto Eggleston Rd. Follow appx. 4 miles. Cross New River. First right onto Village St. The Palisades Restaurant is the 1st brick building on your right.
Traveling Southeast on 1-77 towards Beckley and Princeton, WV from W. Virginia, Ohio, Illinois and points West
Travel east on I-77 to Exit 9, Princeton/Hwy 460/Pearisburg. Turn left at the stop light, following the signs for Hwy 460/Pearisburg. Continue into Virginia, traveling for about 35 minutes. Enter downtown Pembroke. Turn right onto Cascade Dr. (B&BT on right corner, Tangent Outfitters on Left). Road ends turn left & immediately turn right onto River Road. After crossing the New River, River Road becomes Rocky Hollow Road. Follow until road ends. Turn left onto Guinea Mtn. Road. Guinea Mtn. Road becomes Church Hill Rd. The road ends on Village St and at the Palisades Restaurant.